Industry 4.0 at INTRAVIS
13 October 2020 INTRAVIS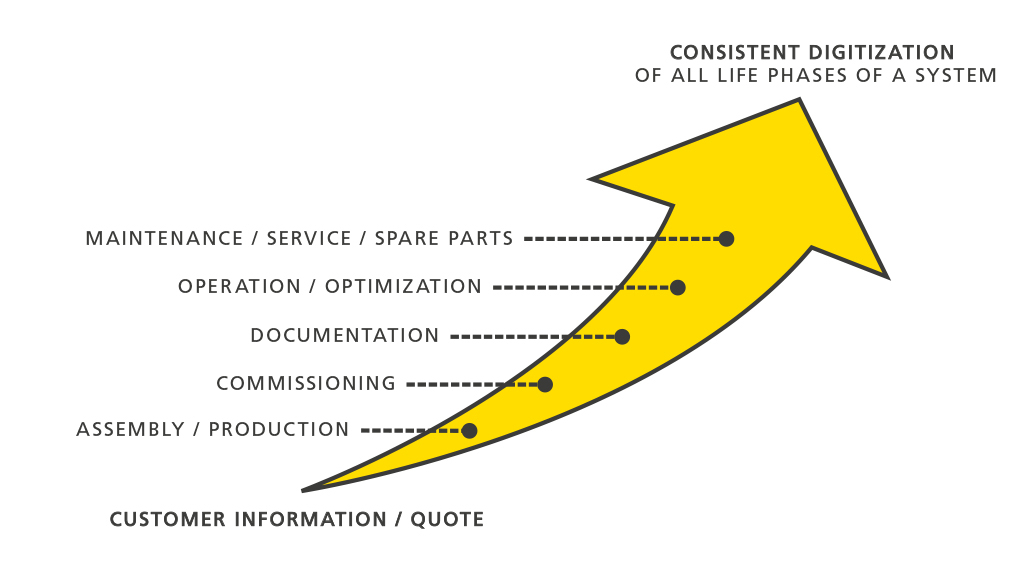 Our Vision
"We solve problems. Before they occur." This vision has been driving INTRAVIS for more than 25 years. INTRAVIS systems do more than sort out faulty products. Our systems help you to increase your productivity and deliver the best possible quality to your customers. That is why our systems bring the quality labs into the production line and immediately make measurement results available to the production managers via many channels.
But Industry 4.0 can do even more: It is our goal that our systems help with the self-configuration of entire plants to support higher levels of automation. Based on a product previously referenced on our system, all connected peripherals can know which settings to apply to them, thanks to OPC UPA interfaces. This means less effort for your machine operators to set up a production line for new products, and more time for other tasks.
At all times, your data is completely secure. You alone decide where and to whom your data is available.
Solutions for You
We offer a variety of future-proof solutions for Industry 4.0.
IntraVisualizer
The IntraVisualizer is a software package that provides a quick overview of all production data. It simultaneously visualizes the test data of all INTRAVIS systems used in the factory, and is very easy to use. Subsequently, quality-relevant production data is transformed into meaningful diagrams, which can be accessed by any Internet-browser-compatible end device in the company.
IntraRecommender
The IntraRecommender is your intelligent production assistant. Through recommended actions, every machine operator can immediately make the right decisions to solve production issues and reduce machine downtimes significantly. Production process optimization as well as the overall effectiveness of your production line will be raised to a new level.
Data connection to your Manufacturing Execution System (MES)

Since 2010, you can process all of the data recorded on our systems via interfaces. In addition, our data is available on the display of the molding machine upon request. It is also possible to submit test orders from your MES to our system.

By default we support Profibus, OPC-UA, Shotscope and MQTT. Your protocol is not included? Talk to us and we will find a solution together!
Selected Case Studies
We have been successfully involved in Industry 4.0 projects for several years now. Below we present some selected case studies.
Closed Loop application between CapWatcher and Netstal injection molding machine
For the first time, together with the Swiss injection molding machine manufacturer Netstal, we presented a CapWatcher as part of a complete control circuit, also known as closed loop, at the Drinktec 2017 trade show. The object of the simulation was a water closure produced live on site.
An external influence was simulated on the injection molding machine to create a diameter change in the closure. The CapWatcher measured this deviation from the standard. Subsequently, via an OPC-UA interface, it informed the injection molding machine that the cap diameter was moving towards its limit value, and that intervention was necessary.
From that moment on, the injection molding machine automatically counteracted the trend by making appropriate adjustments to the associated process parameters (for example, injection pressure, melting temperature). After a very short time, the machine continued to produce closures with a standard diameter.

Thanks to the CapWatcher's feedback, the machine knew exactly which process parameters it had to change. The fully automatic control loop was closed!
Support in low-manning operations at Australian beverage bottler
As early as 2010, a closed loop solution was implemented at the subsidiary of a global player in Australia. In this case study, three CapWatcher and five Sample-PreWatcher systems are positioned inline behind each injection molding machine. In addition, all lines are equipped with a Diverter for loading Octabins.

Each production line is connected to the customer's Manufacturing Execution System (MES) via an OPC interface. The MES defines a maximum filling quantity per packaging unit. Once this is achieved, the INTRAVIS system provides information to the MES that a fully loaded packaging unit is ready for collection. Driverless transport systems then exchange the full packaging units for empty ones, and take the full units to the warehouse or directly to the shipping department.

For the entire production line, this means that no machine operators are required for the production and loading of the preforms and closures produced.
Automatic readjustment of the dispenser head of a labeler
An ever-increasing label offset is a common problem in labeling. Since August 2018, we've integrated a solution at a German global player in which a LabelWatcher is interfaced with a linear labeling system. Based on the average value of the last 40 tested objects – this value can be variably adjusted from line to line – the dispensing head of the labeling system is always optimally aligned. At the same time, rejects can be avoided and the attractiveness of the decoration increased. After the successful test phase in the middle of this year, this functionality will now be rolled out to all lines at this location, followed by all LabelWatchers worldwide in the entire corporate group.
With us - of course
A company that develops Industry 4.0 solutions for its customers should be a pioneer in the implementation of new ideas. That's why we also use new technologies for our own internal processes. Here are two examples of how INTRAVIS will become INTRAVIS 4.0 thanks to Industry 4.0.
Development with digital twin
Imagine if we could digitally reconstruct your system with all current settings within a very short time and offer you an improvement of your Overall Equipment Effectiveness (OEE).

This is not a dream of the future, but our reality today. With the help of so-called virtual CAN networks, we can simulate entire production lines. Based on this virtual information, our specialists are able to develop customized solutions to get a few percent more efficiency out of your system. This does not require long trips. Rather, it is possible to test these solutions with us, and without interrupting your production operation. And for us, working with real data means the possibility of further developments.


Assistance with problem solving in service
As a company where the software is at the center of our services, it is only logical for us to support many of our own processes with software and apps as well. For example, our service technicians write their travel reports quickly and in a standardized way, using automated tools. This allows problems and solutions to be directly correlated and stored.

Your advantage as a customer? After the information is automatically transferred into our service database, we can find a solution even faster when a similar error occurs.