An inspection application for the pharma market
27 June 2022 INTRAVIS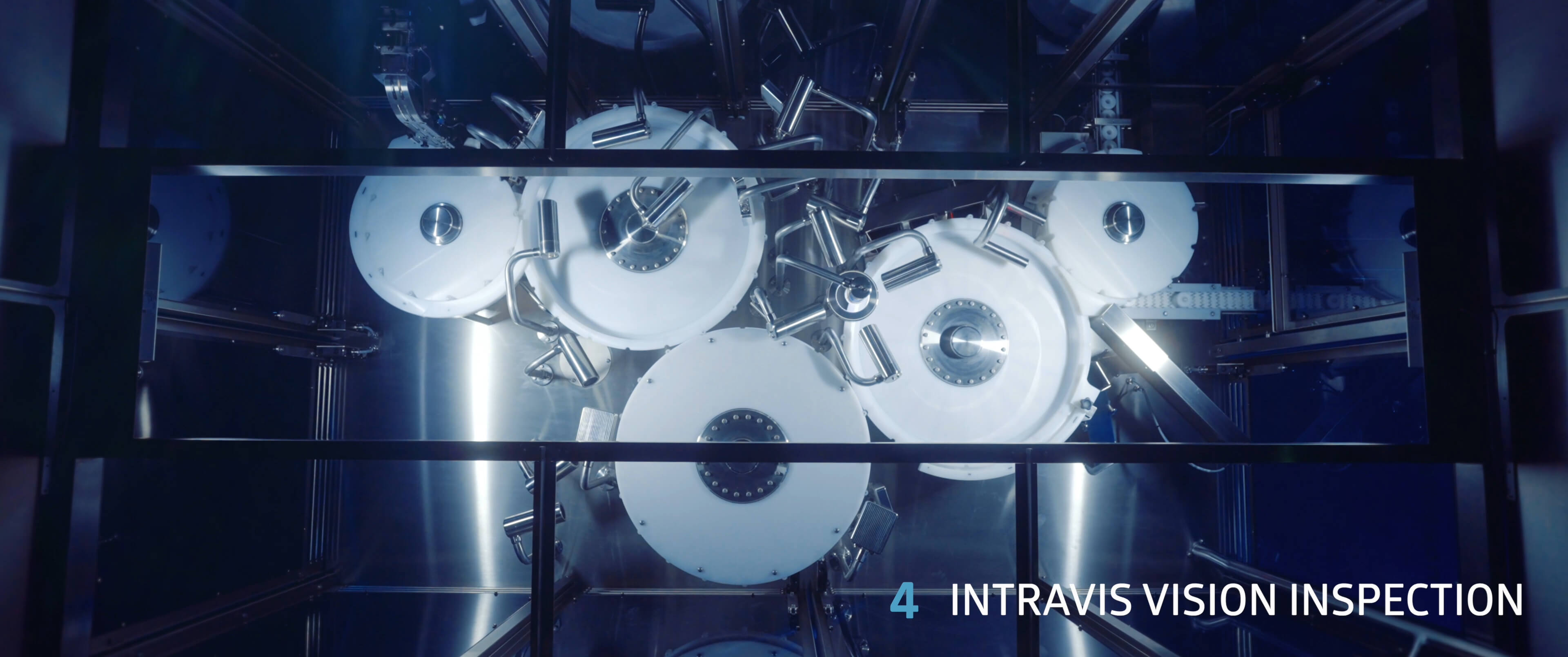 Product safety plays a major role in the production of pharmaceutical and medical products. Defective packagings with contaminations, flashes and holes have an extremely negative impact on the health of patients. This is why it must be guaranteed that these packagings do not leave the production facility uninspected. Overall, a tight control over the whole production process is inevitable to ensure 100% product quality.
Together with our partner Hoppmann Solutions B.V., we developed a customized vision inspection solution for the pharmaceutical market. While Hoppmann cares about handling, feeding as well as assembly, the SpotWatcher plays a key role in terms of a 100% quality control. Every pharma bottle is precisely inspected for contaminations and deformations at the whole body and at the sealing surface. Moreover, a contour inspection guarantees the detection of protruding material. In case of incomplete cutting at the bottom seam, the SpotWatcher detects these defects as well. The whole application is completely designed for a cleanroom environment (according to EU GMP Grade C).
But it is not only possible to detect and reject defective pharmaceutical bottles. By means of an interface, all measurement results and statistical information are exported to the customer's database. This makes it possible for the customer to use the data for further processing, process optimization and overall production control. Moreover, the collected data can be used to to comply with legal regulations which are indispensable for pharma applications. The IntraVision software gathers all necessary data and complies with legal regulations like the EU Guideline for Good Manufacturing Practice, Annex 15. Additionally, it offers several software features, like an audit trail and an advanced authorization model, which are mandatory in the pharmaceutical field. In total, the whole vision inspection solution ensures a 24/7 automatic operation including outstanding product safety. Convince yourself in the video!
Hoppmann Solutions B.V. is a leading supplier of high-quality industrial automation technology, with centrifugal feeding systems at the heart of almost every solution. Hoppmann's innovative products contribute to the effective optimization of industrial production processes. 60 years of experience in development, design and manufacturing make it possible for the company to quickly adapt to individual customer requirements in markets like pharma & health care as well as plastics & packaging.