How to maximize your sleeve label quality
26 November 2021 INTRAVIS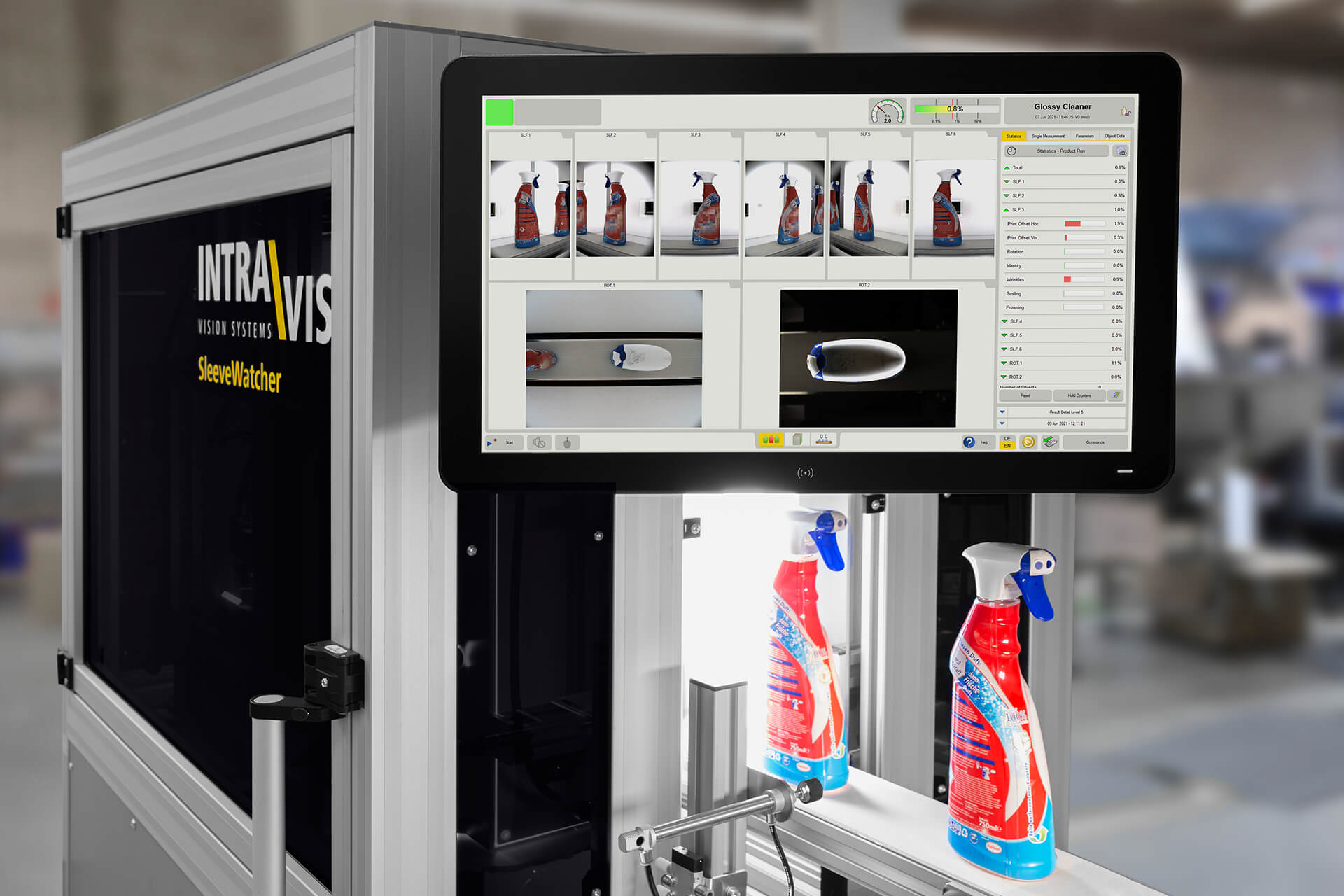 In Japan, they are mainly found. And in Europe as well as the United States, an increasing number of bottles are decorated with them. We are talking about sleeve labels. To meet the special requirements of this particular decoration method, we have developed a new system especially designed for sleeve inspection, the SleeveWatcher.
The benefits of sleeve labeling
More and more frequently, bottles decorated with sleeve labels can be found on European shelves. Nowadays, they are already very popular in the beverage sector, but they are increasingly used in other areas as well: whether it is a toilet cleaner from the German global player or a shampoo from the British consumer goods manufacturer.
This is not surprising as sleeve labels offer several advantages compared to other decoration methods. One of the most important benefits surely is that sleeves can be applied to any object shape while providing a very large area for advertising and eye-catching decorations. Moreover, sleeves cover large parts of the objects which makes it easy to hide color deviations or spots created during the recycling process. The recyclability of sleeve labels must be mentioned as well since no adhesive is needed in the application process. Additionally, the labels can be easily recycled with the help of a perforated seam or by using special sleeve material.
Special challenges in inspection
Compared to other types of labels, sleeves pose special challenges for the vision systems currently available on the market. For this reason, we decided to develop a system specifically designed for sleeved objects.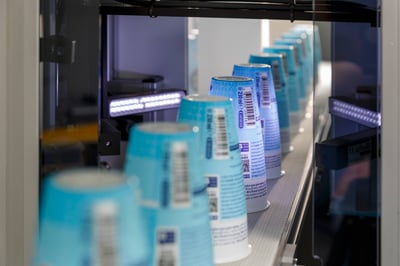 Undoubtedly, a major challenge is the glossy surface of sleeves. Compared to self-adhesive or in-mold labels, sleeve labels lead to high reflections of light if illuminated incorrectly. These reflections, in turn, can result in the ejection of faultless objects that actually meet all quality requirements. We meet this challenge with an adjusted lighting technology. It illuminates the entire inspection area and, consequently, produces a very homogeneous light. This significantly minimizes the risk of reflections.
Another challenge presents the huge number of possibilities that can arise with sleeved objects. A large selection of object shapes with diverse combinations of colors, patterns and transparent label parts provide a particularly high degree of variation for sleeve labels. These elements, which make the sleeved product attractive to the end consumer, are often highly challenging for vision inspection.
Due to the specially arranged hardware as well as a completely new developed inspection module for the IntraVision software, the SleeveWatcher is optimally adjusted to the challenging characteristics of sleeve labels. Thus, the system enables a comprehensive 360° inspection of the entire label.
Inspection of sleeve-specific defects
And what else distinguishes the SleeveWatcher from other vision systems? Christian Schreck, Head of Marketing and Product Management at INTRAVIS, explains: "First of all, the SleeveWatcher is a turnkey system. This means that our customer receives a system from us that only needs to be put into operation in his production line by our service technicians. We have already installed and set up the inspection modules for him upon delivery."
Once the SleeveWatcher is installed, it inspects 100% of the product flow at a speed of up to 15 objects per second. Thus, the system can easily keep up with even the fastest sleeve labeling machines. Its six side cameras inspect sleeves for cefects such as smiling and frowning effects, folds, distortions, and holes. On request, OCR code reading is also possible – no matter whether plain text, data matrix codes or barcodes should be inspected.
Not only ejection, but also data supply

In comparison to other decoration inspection systems the SleeveWatcher has a decisive advantage: It focuses specifically on sleeves and their typical defects. Janina Orlowski, product manager for INTRAVIS inspection systems in the field of decoration, explains why customers benefit from it: "Today, sorting out defective objects is no longer a unique selling point for an inspection system. However, we have specialized in offering our customers specific information about their production processes. General data, such as the number of defective objects ejected, only helps them rather limited. With our SleeveWatcher, we provide them very detailed statistics, diagrams, and reports about what specific defect type caused the ejection: no matter whether smiling or frowning effects, wrinkles or distortions occur."
This product-related quality data, which can also be transferred to any of the customer's information systems via an interface, helps to detect serial defects at an early stage and to react accordingly. Whereas the quality manager previously needed to reach a conclusion by himself about the frequency and severity of a defect based on the ejected objects, he now receives a detailed overview with the help of the inspection system. This significantly shortens the response time for troubleshooting and increases the efficiency and output of production.
Additionally, the customer can export all information as a report or send it automatically via email. This enables him, for example, to provide his customers with detailed information regarding the quality of his delivery.
Conclusion
In the future, sleeved objects will be definitely found more often in our supermarkets. To ensure that quality remains at a first-class level in the long term, inspection systems are essential which deal perfectly with the special requirements of sleeve labels. Furthermore, these systems can help producers to keep their production at the most efficient level possible by providing comprehensive, specific information. With the SleeveWatcher, such a system is now available for every producer.