Why a specialized system makes sense for the inspection of sleeved products
3 May 2022 INTRAVIS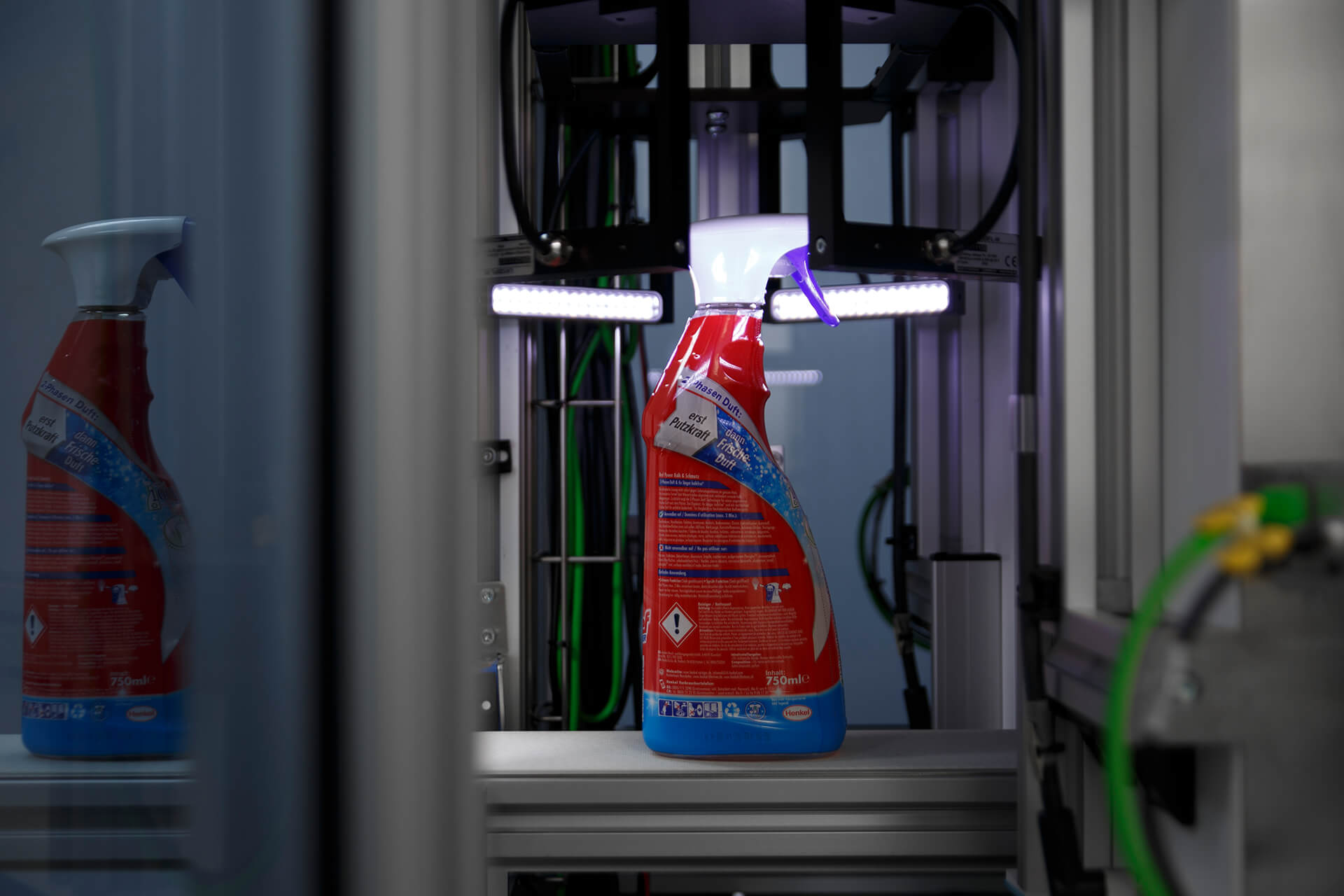 Packaging with sleeve labels is becoming increasingly common on supermarket shelves. Our customers are also increasingly using this type of decoration for their products. Since sleeve labels have their own unique characteristics and a normal decoration inspection system quickly reaches its limits, we have developed the SleeveWatcher.
Sleeve labels present various challenges when it comes to inspection. One of these is the glossy surface, which causes strong reflections when illuminated incorrectly, making comprehensive and error-free inspection of the artwork much more difficult. In addition, the large number of object shapes does not make it easy for conventional inspection systems.
What makes the SleeveWatcher so special
Our SleeveWatcher differs from other inspection systems in many ways. Firstly, the system has specially developed and arranged hardware that supports a completely new illumination concept. While other inspection systems specifically illuminate the object in order to set it off from the background as far as possible, the SleeveWatcher illuminates the entire inspection area and thus ensures particularly homogeneous light. This significantly reduces the risk of reflections.
Another distinguishing feature of our system is its comprehensive statistics. Of course, statistics are also provided by other systems. But do these systems also provide specific information about defects that are very specific to the sleeve process? For example, do these systems give you the number of rejected objects with smiling or frowning errors? Our Sleeve-Watcher provides you with a lot of specific information in the form of statistics, diagrams and exportable reports about your sleeved objects - even if your system sleeves up to 900 objects per minute.
How the SleeveWatcher supports you
Perhaps it is still questionable what added value this data provides you. For example, thanks to such data you have the possibility to detect serial faults resulting from a problem in the sleeve process at an early stage. This allows you to start correcting the cause immediately, resulting in increased efficiency of your production line. You also ensure that no defective product leaves your production and ends up on the supermarket shelf. The information processed by the SleeveWatcher gives you and your customers the certainty of perfect delivery quality.
Have we sparked your interest? Find out more details on the SleeveWatcher product page or contact us personally.